Dai Nippon Printing Co., Ltd.: Coaster Project
Nissey Sangyo and Dai Nippon Printing Co., Ltd. (Hereinafter referred to as DNP) have created FSC certified coasters for beverages as the first product of the resource recycling system.
The margins and surplus portions generated during the manufacturing process at Tanabe Plant in Kyoto will first be made into a recycled pulp at Nssey Sangyo's factory in Tokushima, then sent to DNP's Plants to be reproduced as products.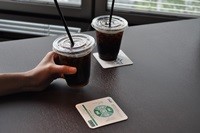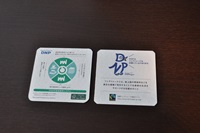 The following is an excerpt from the DNP website:
DNP Resource Recycling System

The resource recycling system is operated in cooperation with Nissey Sangyo Co., Ltd., the first pulp manufacturer in the Asian region to be accredited with FSC®1 certification in the recycle pulp area. Paper emitted from factories is reused as raw materials in newly created products. At DNP, the paper used as raw materials in company plants is managed, and as a result, it is possible to ensure traceability of resources throughout all processes, from emission at factories to reproduction. It also accredits such resources with forest certification when reproducing.
Flow of Resource Recycling System
1 – Collection of industrial waste paper emitted from DNP factories
2 – Pulping of industrial waste paper
3 – Manufacture of recycled paper with that pulp
4 – Reproduction at DNP factories using that recycled paper as raw material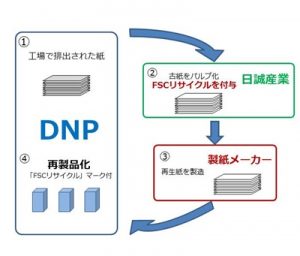 System Features
– Recycling system that takes material emitted in-house and uses them in-house
– Ensured traceability
– Facilitates the manufacture of higher value added products, such as those with forest certification
Looking Ahead
As the initial case study employing the resource recycle system, DNP has successfully reproduced coasters for use when offering visitors beverages in reception rooms at DNP installations throughout Japan. The coasters are manufactured based on old paper emitted from DNP factories, which has been accredited with the FSC recycle mark.  Looking ahead, DNP will expand the variety of products manufactured using the resource recycling system, and operate a variety of businesses not only on an in-house basis, but also at our client companies.
DNP aims to balance business growth with global environmental conservation, and will further promote initiatives targeting the realization of a sustainable society.